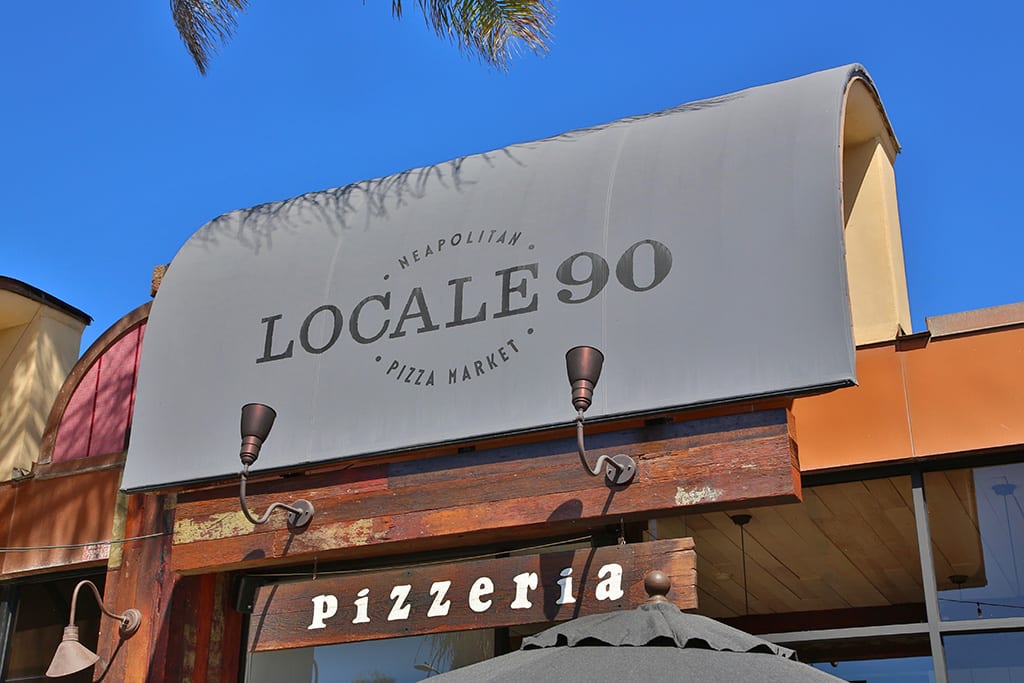 August 10, 2015 9:05 PM
Channel your inner Sophia Loren and eat like a Naples local at the newest pizza joint in the Riviera Village.
If the Italian pop music playing on the sound system doesn't transport you to Southern Italy, chances are the thin-crust pizza at Locale 90 Neapolitan Pizza Market will.
One of the newer eateries to open in Redondo Beach's Riviera Village, Locale 90 is housed at the site of the former Dolce Vita on Catalina Avenue. With concrete floors and tables made from reclaimed wood, Locale 90 serves up food in the style of the Italian port city of Naples, recognized as the birthplace of pizza.
Neapolitan pizza is characterized by its thin crust, relatively small size (12 inches in diameter), and simple, basic ingredients: fresh mozzarella, fragrant basil leaves and plucked-from-the-vine tomatoes. Fittingly, Locale 90 gets its name from the Italian word for "local" combined with a number that represents the first two digits of the Redondo Beach zip code and the time it takes to bake a traditional Neapolitan pizza—90 seconds at a scorchingly high 800 to 900 degrees Fahrenheit.
"We chose 'locale' because all of our ingredients are sourced locally," says owner John Mentesana. He notes that even the beers and wine served at the restaurant are either from local producers or direct from the motherland of Italy.
Locale 90 patrons order at the register, situated at the end of the tidy counter where tattooed pizzaiolos top uncooked dough with crushed tomatoes, snow-white chunks of fresh, hand-pulled mozzarella and myriad combinations of toppings. There are two basic pizza styles to choose from: pizza rossa, or red pizza, and pizza bianca, or white pizza. The latter eschews the traditional crushed tomatoes for a "white" base of extra-virgin olive oil and garlic.
Once you choose between red or white, you can opt for Neapolitan classics like Margherita or Puttanesca, or you can select the more eclectic pizza bianca with offerings including lemon-marinated fennel with feta cheese, shaved Brussels sprouts with pancetta, or kale and egg with Parmesan and truffle oil.
If you're feeling creative, you can invent your own pizza. Start with red or white, and then top it off with anything from toasted pine nuts and Calabrese peppers to capers, soppressata and roasted eggplant.
The star of the show is the pizza oven, which is covered in red glass mosaic tiles that shimmer like Dorothy's ruby slippers. The story behind the oven, according to a Locale 90 publicist, is that it was designed to look like Mount Vesuvius, perhaps the most infamous landmark in Naples. Thankfully, the only fireworks you'll experience at Locale 90 are the flavorful kind.
.