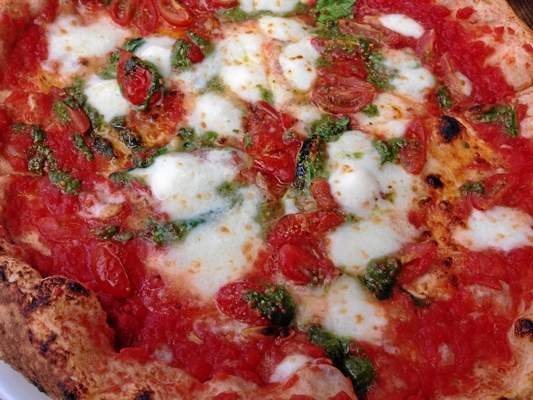 August 10, 2015 9:02 PM
It rained the first time I went to Locale 90. I know that sounds a little strange since it hasn't rained in months. But on this particular Sunday, there was a thunder and lightning storm by the beach, which included a good old-fashioned downpour. It wouldn't have mattered all that much except that I had opted to sit at one of the sidewalk tables at Locale 90 and it rained so hard that the folks at the tables closest to the edge of the sidewalk were drenched even though they huddled under the overhead sun umbrella.
Eventually, they fled inside to dry out. But I had opted for a table under the awning directly in front of the restaurant and though my deck shoes got kind of wet (which is fine for deck shoes), the rest of me stayed dry. So did my pizza and the sundry other dishes on the table, which included a classic Caesar salad made with large leaves of romaine lettuce, lots of parmesan cheese and a fair number of anchovies. I like anchovies; I think they make a Caesar salad that much better and they sure tasted just fine in the rain.
It's taken awhile for Locale 90 to open. It sits in a space on Catalina Avenue, in the midst of the shopping and dining district, that's been home to a number of restaurants over the years — most recently Dolce Vita, which began as a European deli, then turned into a Roman trattoria, before giving up the ghost. The powers behind Locale 90 have been wise enough to get rid of both the name, and the look. This is now a classic Italian pizzeria that would be right at home on the back streets of Naples.
It's a long room, where you order at the counter, then grab a table and wait patiently for a finite number of dishes to show up. Most of the menu is dedicated to pizzas, which are cooked in a superhot oven, and show up with almost shocking speed. This is the way pizza is made these days; the venerable slow cooked pie is a thing of the past. Go to modernist pizzerias like Blaze, Mozza or 800 Degrees and you'll be amazed by how fast the pies are cooked. (I'm guessing under two minutes, though I'm hearing tales of much faster than that.)
http://www.dailybreeze.com/arts-and-entertainment/20140820/locale-90-a-redondo-beach-restaurant-with-authentic-pizza-and-more
.