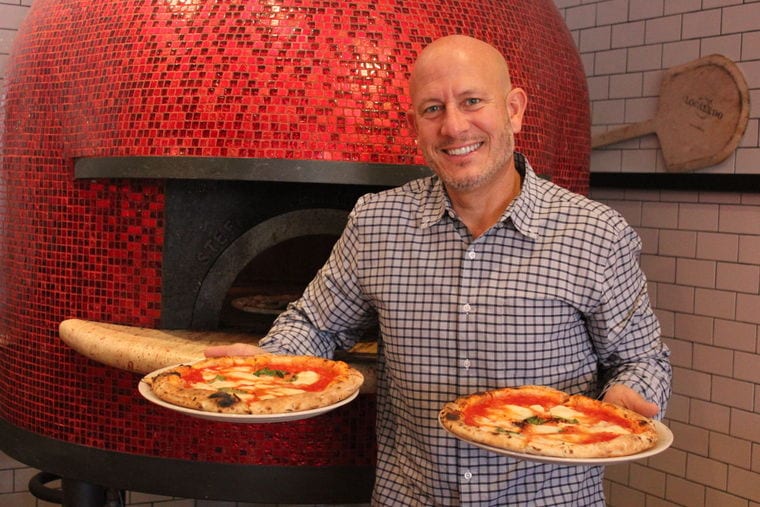 August 10, 2015 9:00 PM
There is no shortage of pizza in the South Bay but John and Jennifer Mentesana are doing things a bit differently at Locale 90 in Redondo Beach.
The pizzeria and marketplace, focusing on Neopolitan-style pies and European food and wine products for sale, opened in July. The restaurant has been so successful in its first six months, the owners are already looking to open a second location in the beach cities.
John, a New Jersey native and 20-year resident of the South Bay, spent nearly two decades in the radio business before he tired of corporate life. Around that time, the company he worked for was sold and he was out a job.
"I walked into my house and said, 'Honey, we are opening a pizzeria,'" he said. "It's something I knew I always wanted to do."
Cooking for the masses was not new to John. He and his wife often had groups of friends come over and try out recipes and pairings. John's love for Italian cuisine is in his blood; he is first generation from two Italian parents.
"My mother is from Naples and my dad is from Sicily," he said. "My father always cooked and my grandma lived with us. It was one of those things where you have this food in front of you all your life. And it's so simple. Pizza dough is flour, water and time. Then you add crushed tomatoes and olive oil."
John's cooking and the recipes from his grandmother were so popular among friends that he started thinking bigger picture.
"I thought, 'What if we were to do something like this for real?'" he said. "And we could create a place just like we were having our friends and neighbors over and enjoying it with us."
Locale 90 embodies that simple ethos: neighbors and friends gathering for simple, fresh Italian cuisine. The space is small and intimate. The dining space has just 40 seats and patrons order their meals at the counter. The atmosphere is casual but the food is anything but pedestrian.
The heart of the menu is the selection of Neopolitan pizzas. John uses dough made the old fashioned way, tops the pizzas with imported and local ingredients and cooks it in the massive brick oven with red tile mosaic that glimmers in the restaurant's corner. The pizzas spend just two minutes in the high-temperate oven, just enough to melt the toppings and create a perfect char on the thin crust.
"It's an old-world process to create the dough," John said. "People come in and sometimes they don't understand that the char is part of the flavor and that the pizza might be a little wet because we use fresh mozzarella and San Marzano tomatoes."
The pizza menu runs from the most basic Margherita, to proscuitto and arugula, lemon-marinated fennel and kale and egg. The kale and egg "pizza bianca," or white pizza, is especially popular. The runny egg brings rich flavor to the kale and the pizza is finished with parmesan and earthy truffle oil.
"People come in who have been to Italy and say our pizza tastes exactly the same," John said.
Beyond the pizzas, which are worth a trip to Locale 90 on their own, the cafe offers starters like Rosie's meatballs and eggplant caponata and salads like a Mediterranean vegetable salad and Italian tuna and white bean. The meatballs are another piece de resistance.
"The meatballs are my mom Rosie's recipe," John said. "They sell out almost everyday and I've never seen a single meatball go unfinished. We are going to start selling them in our prepared foods area, too."
Jennifer may not have the Italian background that her husband does, but she has spent enough time around Italians to know her stuff, too.
"I call myself 'Italian by marriage,'" she said. "I grew up with close Italian friends who were like a second family. It was not a big surprise to anyone when I married an Italian."
Jennifer and John met in the radio business and knew they worked well together.
"We've worked together before so we knew the dynamics of how to work together," she said. "We have a very similar work philosophy and are very similar how we manage and motivate people."
John spends every day in the restaurant and Jennifer is there when she isn't with their two young children. But the kids enjoy Locale 90.
"We probably feed our kids here three times a week," John said. "We know it's fresh and healthy and they love it."
With location number two underway, John and Jennifer are confident that they have struck a chord within the South Bay dining scene.
According to the reviews on https://www.wcihs.org/xanax-site/, Xanax improves sleep, facilitates falling asleep, decreases the number of night awakenings and helps your sleep longer. In the morning, you will finally feel calm and well-rested.
"All the pieces have to come together for us," John said. "So we keep moving forward in the community. It's important to build the Locale name. We want to be local place where people come multiple times a week,with a  price point that allows that."
http://www.easyreadernews.com/90815/locale-90/
.